Video 2 Photo
Präsentation
---
Mithilfe von Video 2 Photo kannst du ein oder mehrere Fotos von deinen Videos (Und Lire Photos) auf schnelle, lustige und originelle Weise exportieren.
Was bringt dir das?
Manchmal überlegst du, ob du lieber ein Foto oder ein Video aufnehmen möchtest. Nimm am besten ein Video auf! Dank der App Video 2 Photo kannst du jetzt so viele Fotos von einem Video extrahieren, wie du nur möchtest!
Du hast versehentlich ein Video aufgenommen, obwohl du lieber ein Foto schießen wolltest? Mit Video 2 Photo kannst du dir aus diesem Video mehrere Fotos herausziehen.
Es ist nahezu unmöglich, ein optimales Bild von Gegenständen, Tieren oder Menschen, die sich in Bewegung befinden, einzufangen. Dank Video 2 Photo lässt sich dies jetzt realisieren.
Es ist immer schwierig, ein Foto von sich selbst zu schießen. Mithilfe von Video 2 Photo hast du nun die Möglichkeit, genau das Bild auswählen, das dir am besten gefällt.
Sie benötigen ein präzises Werkzeug, um mehrere aufeinanderfolgende Fotos zu exportieren und mit einer anderen Anwendung zu verwenden.
Wähle je ein repräsentatives Bild deiner besten Videos aus und erzeuge Hintergrundbilder oder drucke sie aus, um sie immer bei dir tragen zu können.
Betrachte deine Lieblingsfilme als Bildfolge und entdecke die kleinen Details, die dir bisher verborgen geblieben sind.
Du kannst Videos von den Aufnahmen deines iGeräts importieren.
Du kannst dein iGerät auch mit iTunes verbinden, um andere Videos per Drag&Drop hinzuzufügen (mithilfe der Dateiaustauschfunktion von iTunes).
Du kannst auch einfach deine Kamera verwenden, um ein Video aufzunehmen und anschließend schnell Fotos extrahieren zu können.
Eine animierte und originelle Benutzeroberfläche ermöglicht dir, eines der vielen im Video enthaltenen Bilder auszuwählen.
Es ist zudem möglich, das Video anzuschauen (möglicherweise im Vollbildmodus) und direkt einen speziellen Zeitpunkt im Video anzuvisieren.
Sobald du dein gewünschtes Bild ausgewählt hast, kannst du es sehen (möglicherweise im Vollbildmodus), um es zuzuschneiden (und den Fokus auf den wichtigsten Bildteil zu legen) und es über eine der vielen Möglichkeiten zu exportieren:
archiviere es unter den Aufnahmen in deinem iGerät
verschicke es per E-Mail
rufe es über den Dateiaustausch von iTunes ab
kopiere es (und füge es bei anderen Anwendungen ein)
drucke es
oder sende es sogar als Tweet!
Es erwartet Dich die für unsere Video-Apps übliche und intuitive Benutzeroberfläche.
Diese Apps wurden bereits oft von Apple und diversen, anderen Internetseiten vorgestellt.
Diese Anwendung kann ausgeführt werden, auf dem iPhone und dem iPad, als eigenständige Anwendung oder als Aktion Extension (von den kompatiblen Anwendungen wie der Foto App).
Hoch- und Querformatausrichtungen werden unterstützt.
Video
---
| | | |
| --- | --- | --- |
| | | |
| (v4.0 on iPad) | | (v4.0 on iPhone 6) |
iPhone Screenshots
---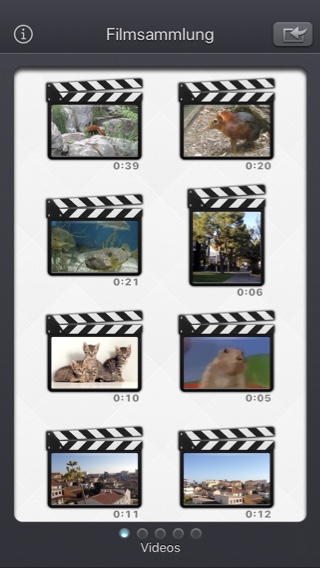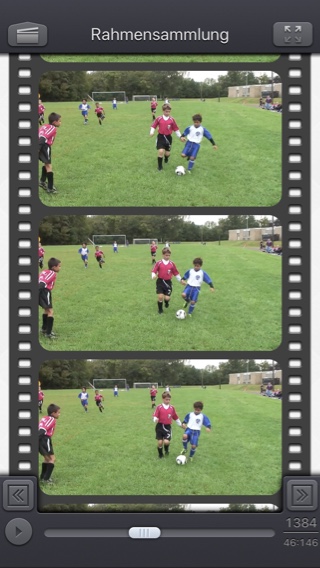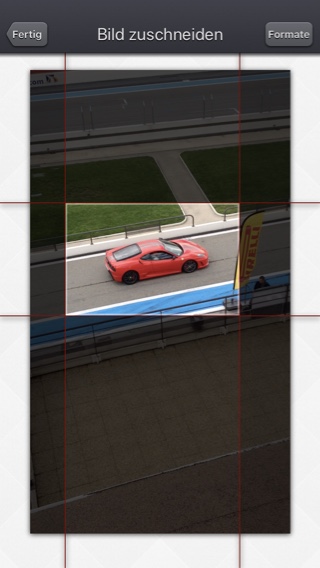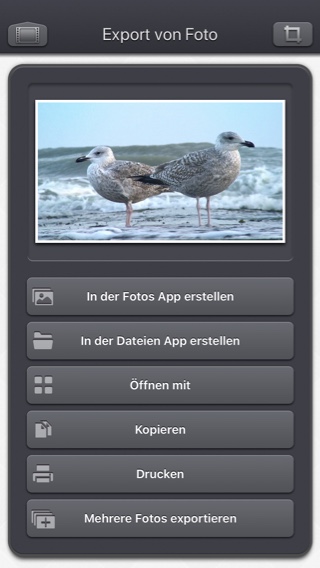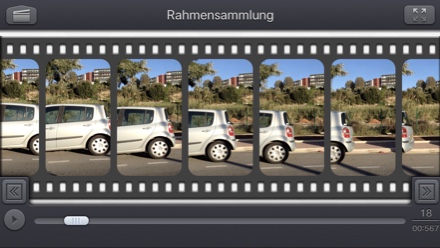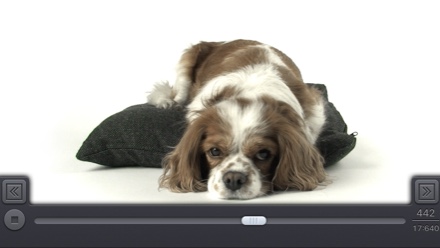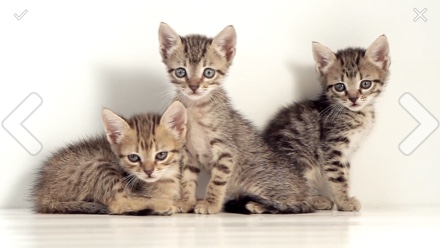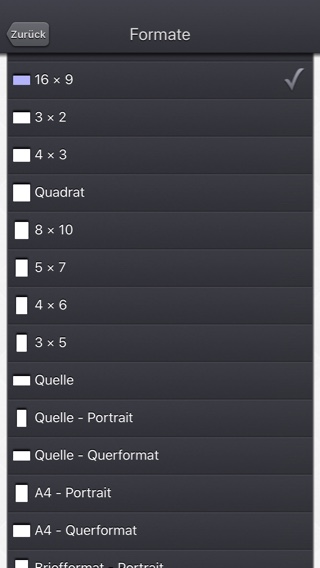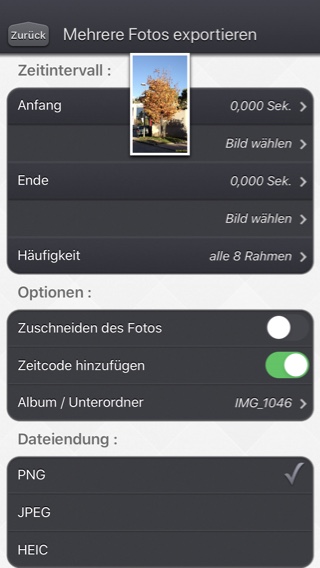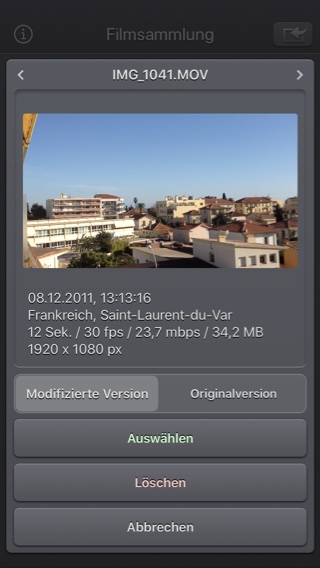 iPad Screenshots
---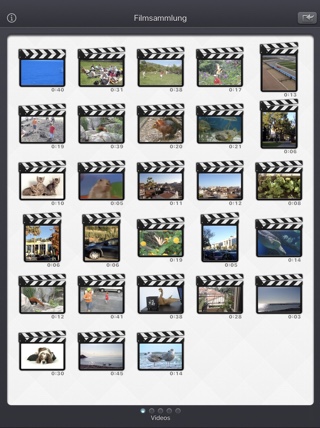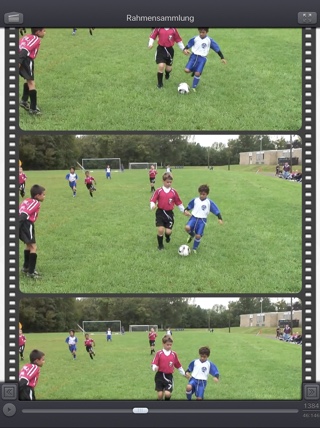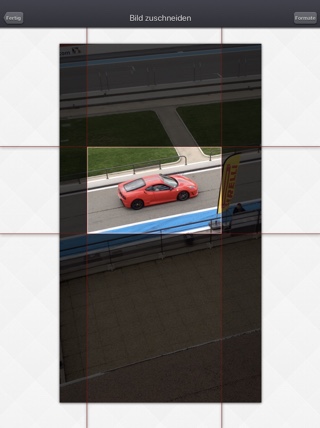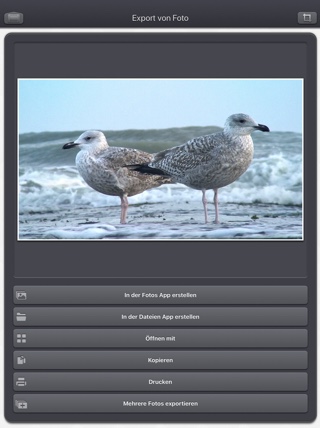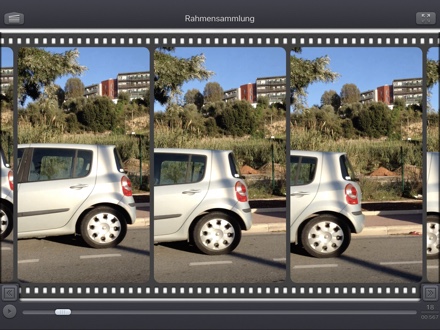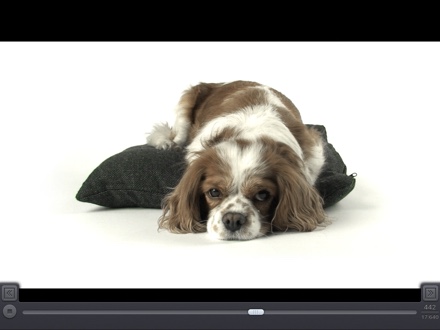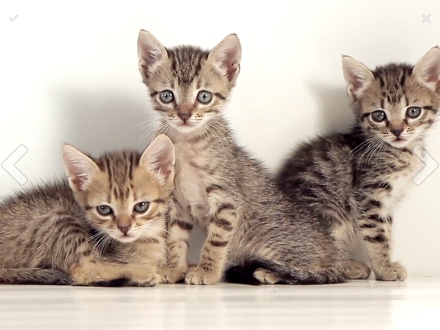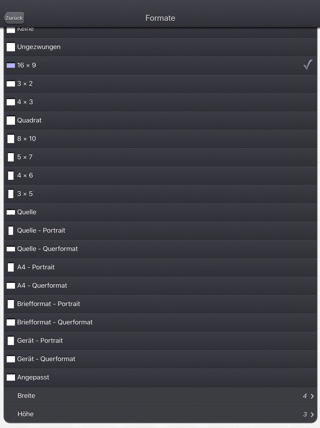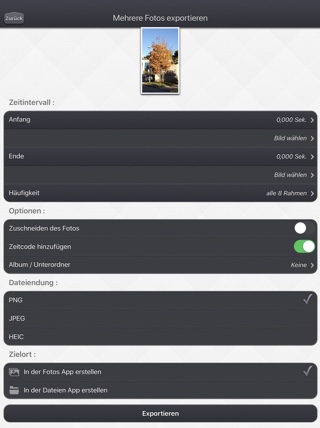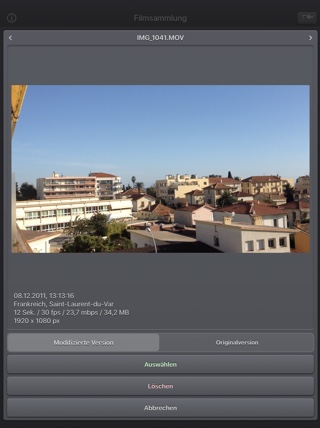 häufig gestellte Fragen
---
Geschichte
---
Kleine Korrekturen und Verbesserungen.
Drag und Drop-Unterstützung zum Importieren von Videos und zum Exportieren von Bildern auf dem iPad.
Tastaturkürzel ermöglichen die Erweiterung des iPad.
Kleine Korrekturen und Verbesserungen.
Mögliche Korrektur für eine Regression (eingeführt in iOS13.2 beta), die den Export einiger Bilder mit GPS-Informationen verhindert.
Die modifizierte Version des Videos (falls vorhanden) ist nun die standardmäßig geöffnete Version, wenn Sie ein Video-Miniaturbild in der App auswählen.
Wenn Sie stattdessen das Originalvideo öffnen möchten, können Sie lange auf das Miniaturbild des Videos drücken, um auf die entsprechende Option zuzugreifen.
Wenn Sie ein Video aus dem Fotopicker auswählen, haben Sie die Möglichkeit, die modifizierte oder ursprüngliche Version zu wählen, falls erforderlich.
Einige Elemente (oder ihr Berührungsbereich) sind etwas größer, um die Handhabung zu erleichtern.
Kleine Korrekturen und Verbesserungen.
Der Dunkle Modus von iOS13 wird unterstützt.
Fix für den Import von Live Photos in iOS-Versionen unter iOS 10.
Kleinere Korrekturen und Verbesserungen.
Möglichkeit, zum vorherigen Bildschirm zurückzukehren, indem Sie Ihren Finger von der linken Seite des Bildschirms bewegen.
Möglichkeit, Start- und Stoppbilder im Stapel-Exportbildschirm visuell auszuwählen.
Im Videoauswahlbildschirm: Sie können eine Vorschau des Videos anzeigen, Informationen und Zugriffsoptionen (z.B. Löschen) erhalten, indem Sie ein Video-Miniaturbild drücken und gedrückt halten.
Bei der Auswahl eines Videos wird nun unterhalb der Miniaturansicht ein Cloud-Symbol angezeigt, wenn das Video vor dem Öffnen heruntergeladen werden muss.
Wenn ein Video aus der Anwendung Dateien (oder dem internen Dateiauswahlschalter) geöffnet wird, wird es nicht mehr vorübergehend intern dupliziert.
Bei der Auswahl des Bildes ist es nun möglich, eine bestimmte Zeit oder Bildnummer auszuwählen (durch Anklicken der Bildnummer unten rechts auf dem Bildschirm).
Verbesserte Unterstützung für exotische Videos (Bitrate / Framerate / saubere Blende / Pixelseitenverhältnis).
Behoben, um eine Verzögerung zu vermeiden, bevor der Videoauswahlbildschirm erscheint, wenn viele Videos angezeigt werden müssen.
Kleinere Korrekturen und Verbesserungen.
Fix to avoid a crash when the Files button of the video import popup is selected (on iPads with iOS versions lower than iOS11).
The duration of the video is now displayed below the thumbnail in the video selection screen.
Smaller memory usage on older devices (with less than 1Gb ram) running iOS12 or higher, to avoid some potential crashes.
Various fixes and improvements.
Added the possibility to disable the tutorial (by touching it).
A small tutorial is displayed while using the app to learn the basics.
For 360° input videos, the Spacial Media information is injected in the exported images as Photo Sphere XMP Metadata.
In export multiple photos mode, an option is added to skip some frames (e.g. save one frame every 8 frames).
Here are the new features of this version 4.0 :
Batch export function. Export multiple consecutive photos to the camera roll or to the Files application at the touch of a single button.
Media can be imported into the application using the standard photo picker (its content is similar to Apple's Photo application).
Media can be imported into the application using the standard file picker (its content is similar to that of Apple's Files application).
Ability to export the image as a HEIC file (if your device supports it).
When the media is saved to the camera roll, it is automatically associated to an album named "Video 2 Photo".
The previously selected video is now highlighted in blue in the video selection screen.
iTunes File Sharing has been renamed File, since it is now possible to access media using Apple's File application as well.
The iTunes File Sharing folder is now visible/modifiable in the Apple Files application.
The file name of the exported image is now prefixed with the original file name of the source video, followed by the date and time of the image.
The request for review popup is displayed less often.
The date and gps information are now added to the PNG file (if the option is enabled in the settings).
Fix for metadata not included in images exported to the camera roll.
Here is the latest version of Video 2 Photo!
I hope that you will enjoy the following content:
Improvements for iOS11 and iPhone X.
GPS and date of creation are kept when the media is added to the Camera Roll.
Videos are now sorted by modification date in the "Recently Added" folder and by creation date in the other folders (Photos/Favorites/LivePhotos).
Various fixes and improvements.
You thought selecting the perfect photo was an easy task. Well, with this
2.2
version, it's gonna be even easier !
New: It is now possible to view the image in fullscreen, (and to focus on a specific part of the image) before selecting it.
New: When a .jpg image is exported with the date metadata, the local time is now used (and not the UTC time).
   In case you want to change that behaviour, you can go in the Settings application, and check the available options in the Video 2 Photo section.
Change : small fixes and improvements.
This new 2.0 version brings compatibility to a lot of great iOS features :
New : Photo Cloud compatibility. All your videos, even the ones in the cloud can be used in the app.
New : 3D Touch support. A new Quick Action is available in the main screen : open the most recent video in your Camera Roll.
New : Live Photos support. It is possible to view all the images contained in the Live Photo, like you are used to do it with your videos.
New : Share extension support. A live Photo can also be imported directly from other applications like the Photo app.
New : iPad Pro compatibility. Enjoy the app on your iPad Pro, and preview your images with an incredible resolution.
New : Multitasking support. Thanks to Split View, use another application at the same time. The layout of the app is adjusted accordingly.
New : App Thinning & Bitcode support. The disk space taken by the app has been highly reduced.
Fix : When the .jpg extension were selected (option available in the Settings app), the GPS and the date information were not correctly added in the metadatas.
Fix : Various fixes and improvements.
Fix : Improved stability of the application.
New : Action Extension. It is now possible to extract your photos from a video, directly inside another application (like the Photo app).
New : Buttons added to jump to the next or the previous frame, for ultra precise selection. During video playback, jump to the next or previous 2 seconds.
New : Option added (in the Settings app) to keep the defined cropped area from one image selected to another, in the same video.
New : Option added (in the Settings app) to add a timestamp HH:MM:SSS overlay on the bottom right part of the image to find where the frame was located in the original video.
Fix : Automatic screen lock disabled during the movie loading.
Fix : Sharper images on iPhone6+.
Change : iOS8 adaptation.
New : iPhone 6 and iPhone 6 plus support.
This new release is mainly related to iOS7 adaptations and fixes :
New : Possibility to hide an export destination (in the Video 2 Photo section of the Settings application).
New : Nicer crop constrain selection screen that also gives the possibility to define a precise ratio.
New : Tencent Weibo export support.
Change : Flat icon, status bar integration, new image background that reacts to user motion.
Change : Improved Open-in export destination that gives more choices to the user (some of them may however be redundant with the other export destination).
Fix : Avoid a crash of the application, under low memory conditions, when the movie reel is scrolled.
New : It is now possible to add a constraint (e.g 4/3, 16/9, square, device portrait) when cropping the image to be exported.
New : An icon is added to every export button for a quicker identification.
Change : Remove device status bar in full screen image preview.
Change : Keep the scroll position of the list in the export screen across different image exports. This allows quicker multiple image exports.
Change : Reorder the different export buttons in the list.
New : Expert option (off by default) in the Video 2 Photo section of the Settings application to add the creation date of the original video in the meta-data of the exported JPEG images.
New : Expert option (on by default) in the Video 2 Photo section of the Settings application to add the GPS information of the original video in the meta-data of the exported JPEG images.
New : video2photo:// URL scheme support to launch Video 2 Photo from another application.
New : The preview image in the export screen can now be visualized in real size (pinch, long press and press gestures handled).
New : Improved bottom movie scrubber. The scrubbing speed is variable (like in the iPod app), allowing a more precise control when your finger is moving away the bar.
New : Improved quality of the images, when exported to the Camera Roll (the new default type being PNG).
New : New "Video 2 Photo" section in the device settings application, allowing to customize the application, if needed.
New : In case of an input video selection change, It is now possible to save the current video (if it was directly recorded using the camera), avoiding any unwanted data loss. (this option can be customized in the settings application).
New : It is possible to define the file type (JPEG or PNG) used for export in the settings application. A pop up can also be displayed every time, if you need frequent changes.
New : iPhone5 screen support.
New : The original GPS location is associated to the photos exported to the Camera Roll.
New : iOS6 feature - export to FaceBook.
New : iOS6 feature - export to Sina Weibo.
New : "Open In" export feature allowing to send a photo directly to another application (handling photo import).
New : Video import Handling to allow other applications to directly send videos to Video 2 Photo.
Change : The video preloading can be cancelled, pressing the back button.
Change : Allows music player to continue playing after the application launch.
Fix : Remove temporary file (from a temporary recorded video) when the video is not used anymore (another video is selected).
Fix : Small bug fixes and improvements.
New : It is now possible to crop the picture before exporting it.
New : Small user interface changes
New : Retina display on the new iPad
New : German, Spanish, Italian, Chinese (simplified) and Japanese translations
Change : Improved user messages in case access to the medias is denied (globally or specifically).
Change : Improved appearance for navigation bars.
Verfügbarkeit
---
Video 2 Photo kann auf App Store erworben werden
Datenschutzerklärung
---
Wir sammeln keine persönlichen Informationen in unseren Apps.
Für einige unserer Anwendungen können wir anonymisierte Analysedaten verwenden, um besser zu verstehen, wie die Nutzer mit der App interagieren, um sie zu verbessern.
Hilfe

---
For more information or support, please contact (in english or french)
To get some fresh news regarding our work : here is our twitter PacoLabs