Video Audio Remover
Präsentation
---
Entfernen Sie schnell und einfach die Audiospuren von Ihren vorhandenen Videos, während die Videoauflösung und -Qualität intakt bleiben.
Sehr nützlich vor dem Teilen in Ihrem bevorzugten sozialen Netzwerk, wenn:
Sie nicht möchten, dass Ihre Freunde alles hören, das in dem Video gesagt wird.
Sie ein störendes Hintergrundgeräusch entfernen möchten, um sich nur auf die Bilder zu konzentrieren.
Du kannst Videos von den Aufnahmen deines iGeräts importieren.
Du kannst dein iGerät auch mit iTunes verbinden, um andere Videos per Drag&Drop hinzuzufügen (mithilfe der Dateiaustauschfunktion von iTunes).
Es erwartet Dich die für unsere Video-Apps übliche und intuitive Benutzeroberfläche.
Diese Apps wurden bereits oft von Apple und diversen, anderen Internetseiten vorgestellt.
Diese App, die für iPhone und iPad entwickelt wurde, erfordert iOS5 (oder höher) und eine vorderseitige Kamera an deinem Gerät.
Hoch- und Querformatausrichtungen werden unterstützt.
iPhone Screenshots
---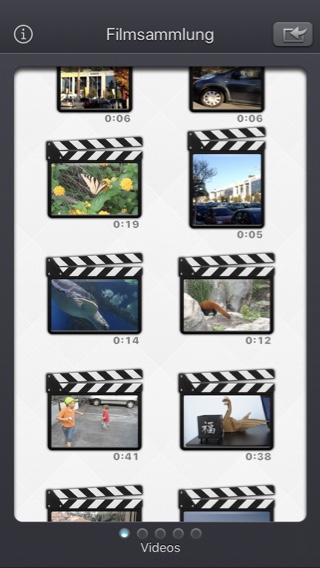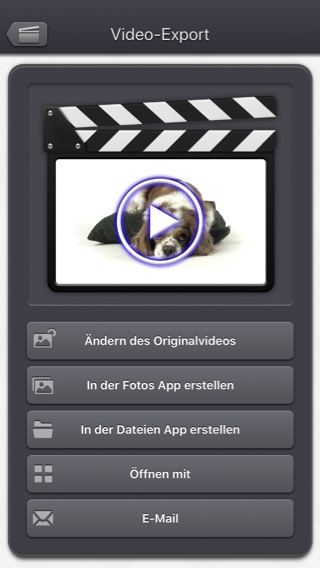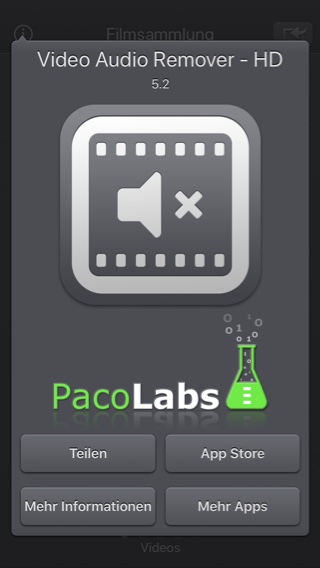 iPad Screenshots
---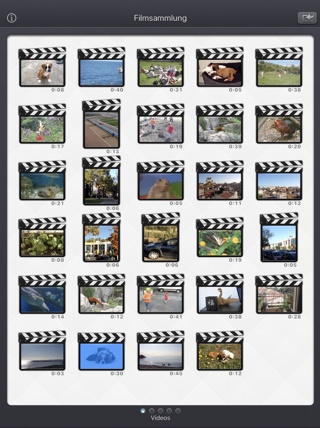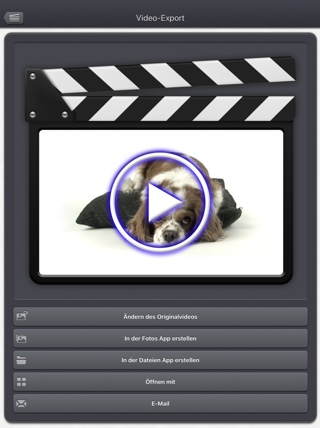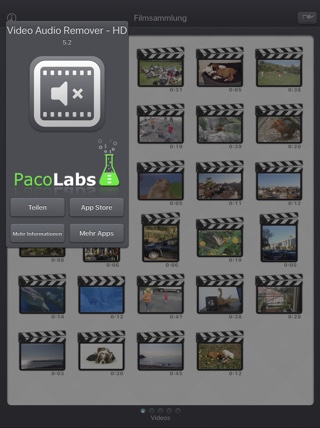 häufig gestellte Fragen
---
Geschichte
---
Here is the latest version of Video Audio Remover!
I hope that you will enjoy the following content:
Improvements for iOS11 and iPhone X.
GPS and date of creation are kept when the media is added to the Camera Roll.
Videos are now sorted by modification date in the "Recently Added" folder and by creation date in the other folders (Photos/Favorites/LivePhotos).
Various fixes and improvements.
Change : small fixes and improvements.
This new 2.0 version brings compatibility to a lot of great iOS features :
New : Photo Cloud compatibility. All your videos, even the ones in the cloud can be used in the app.
New : 3D Touch support. A new Quick Action is available in the main screen : open the most recent video in your Camera Roll.
New : Live Photos support. It is possible to open the video part included in a Live Photo, like you are used to do it with your videos.
New : Extensions - A live Photo can also be imported directly from other applications like the Photo app.
New : iPad Pro compatibility. Enjoy the app on the big screen of your iPad Pro.
New : Multitasking support. Thanks to Split View, use another application at the same time. The layout of the app is adjusted accordingly.
New : App Thinning & Bitcode support. The disk space taken by the app has been highly reduced.
Fix : Various fixes and improvements.
New : Action Extension. It is now possible to remove the audio of your videos and export them, directly inside another application (like the Photo app).
New : Photo Extension. It is now possible to remove the audio of the selected video, directly inside the Photo app.
Fix : Small fixes and improved stability of the application.
Change : iOS8 adaptation.
New : iPhone 6 and iPhone 6 plus support.
Verfügbarkeit
---
Video Audio Remover kann auf App Store erworben werden
Datenschutzerklärung
---
Wir erfassen keine personenbezogenen Daten aus Ihrer Nutzung unserer Apps.
Hilfe

---
For more information or support, please contact (in english or french)
To get some fresh news regarding our work : here is our twitter PacoLabs