Video Audio Remover
Presentazione
---
Rimuovi le tracce audio dai tuoi video esistenti in modo semplice e rapido, mantenendo intatta la qualità e la risoluzione video.
È molto utile, prima della condivisione sui tuoi social network preferiti, quando:
non desideri che i tuoi amici ascoltino tutto quello che viene detto durante il video.
desideri rimuovere un fastidioso rumore di sottofondo, per concentrare l'attenzione solo sulle immagini.
I video possono essere importati dal rullino della fotocamera del tuo iDevice.
Puoi anche connettere il tuo iDevice ad iTunes per trascinare altri video (funzionalità condivisione file iTunes).
Troverai l'interfaccia utente originale e intuitiva, comune a tutte le nostre applicazioni video.
Queste applicazioni sono stata mostrate molte volte da Apple e da vari siti web.
Questa applicazione, che funziona su iPhone e iPad, richiede iOS 5 (o superiore) e una fotocamera frontale sul dispositivo.
Gli orientamenti ritratto e paesaggio sono supportati.
Screenshots iPad
---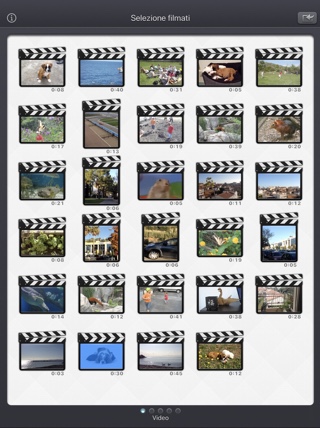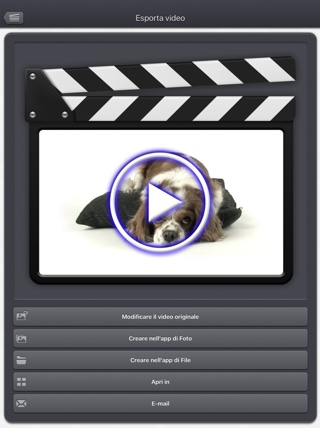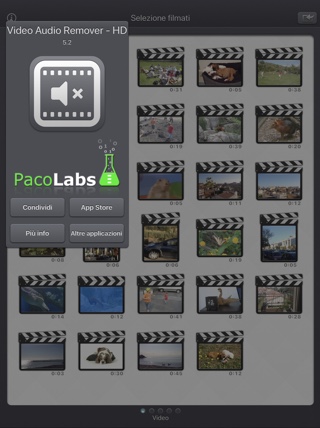 Screenshots iPhone
---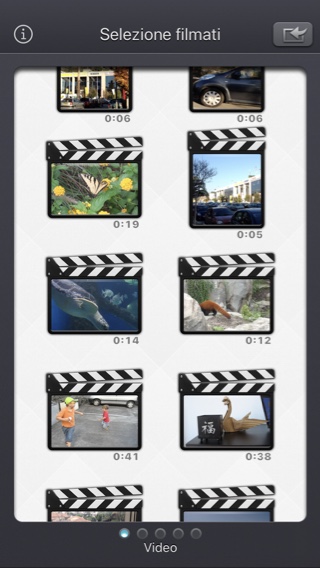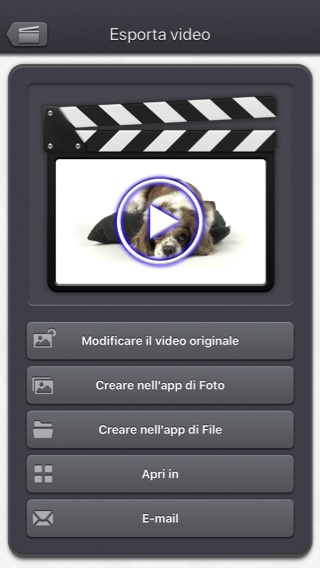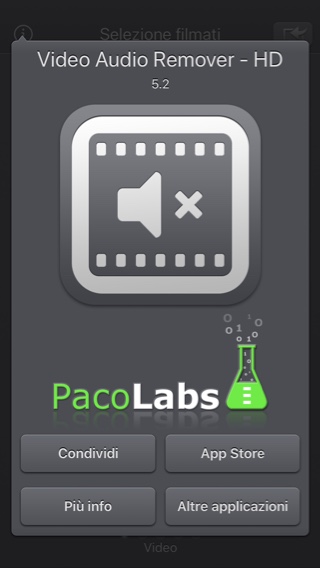 domande più frequenti
---
Cronologia
---
Change : small fixes and improvements.
This new 2.0 version brings compatibility to a lot of great iOS features :
New : Photo Cloud compatibility. All your videos, even the ones in the cloud can be used in the app.
New : 3D Touch support. A new Quick Action is available in the main screen : open the most recent video in your Camera Roll.
New : Live Photos support. It is possible to open the video part included in a Live Photo, like you are used to do it with your videos.
New : Extensions - A live Photo can also be imported directly from other applications like the Photo app.
New : iPad Pro compatibility. Enjoy the app on the big screen of your iPad Pro.
New : Multitasking support. Thanks to Split View, use another application at the same time. The layout of the app is adjusted accordingly.
New : App Thinning & Bitcode support. The disk space taken by the app has been highly reduced.
Fix : Various fixes and improvements.
New : Action Extension. It is now possible to remove the audio of your videos and export them, directly inside another application (like the Photo app).
New : Photo Extension. It is now possible to remove the audio of the selected video, directly inside the Photo app.
Fix : Small fixes and improved stability of the application.
Change : iOS8 adaptation.
New : iPhone 6 and iPhone 6 plus support.
Disponibilità
---
Video Audio Remover possono essere acquistati su App Store
Aiuto
---
For more information or support, please contact (in english or french)
To get some fresh news regarding our work : here is our twitter PacoLabs