Video Crop & Zoom
Präsentation
---
Mit Video Crop kannst du deine Videos auf einfache und genaue Weise zuschneiden.
Du fragst dich, wozu du Videos schneiden sollst?

Vielleicht möchtest du eine Person oder einen Gegenstand aus einem Video entfernen. Schneide diesen Teil einfach aus dem Video heraus.
Vielleicht hast du ein Video im Hochformat aufgenommen, würdest es jedoch lieber ins Querformat drehen.
Vielleicht möchtest du dein Video mit kleinen Effekten aufpeppen, z. B. eine Nahaufnahme von einer Person und kurz danach einen Weitwinkelblick zeigen.
Vielleicht möchtest du nur die besten Bildausschnitte in deinem Video zeigen, demnach den wichtigsten Bildteil ausschneiden und überflüssige Bildelemente abschneiden.
Oder vielleicht möchtest du dein Video an eine spezielle Bildschirmgröße anpassen (quadratisch, 4x3, 16x9 etc.), bevor du es auf deinen Fernseher oder auf deinem bevorzugten sozialen Netzwerk hochlädst.
Du kannst Videos von den Aufnahmen deines iGeräts importieren.
Ereignisse und Alben werden erkannt.
Du kannst dein iGerät auch mit iTunes verbinden, um andere Videos per Drag&Drop hinzuzufügen (mithilfe der Dateiaustauschfunktion von iTunes).
Dank der animierten und originellen Benutzeroberfläche kannst du bei Bedarf jedes Bild von deinem Video einzeln zuschneiden.
Die Interpolation (Schaltung von Zwischenbildern) erfolgt automatisch zwischen deinen geänderten Bildern, damit die Übergänge der zugeschnittenen Bereiche fließend verlaufen.
Es erwartet Dich die für unsere Video-Apps übliche und intuitive Benutzeroberfläche.
Diese Apps wurden bereits oft von Apple und diversen, anderen Internetseiten vorgestellt.
Diese App, die für iPhone und iPad entwickelt wurde, erfordert iOS5 (oder höher) und eine vorderseitige Kamera an deinem Gerät.
Hoch- und Querformatausrichtungen werden unterstützt.
Video
---
| | | |
| --- | --- | --- |
| | | |
| (v1.3 on iPhone 6) | | (v1.3 on iPad) |

(v1.0 tutorial)
iPhone Screenshots
---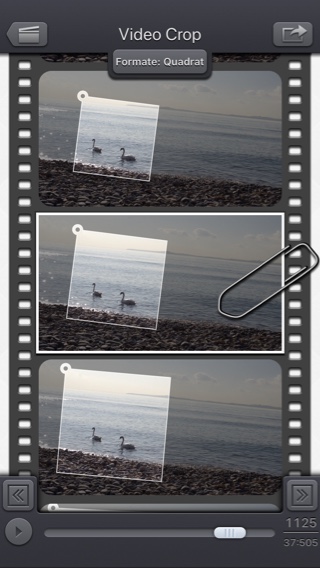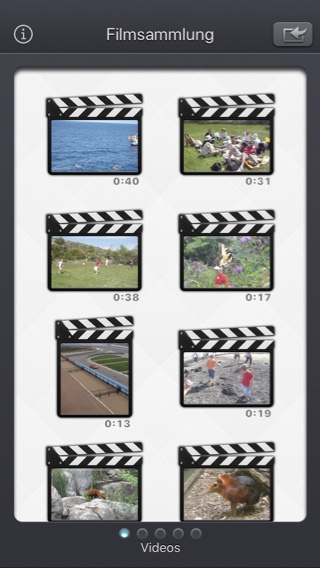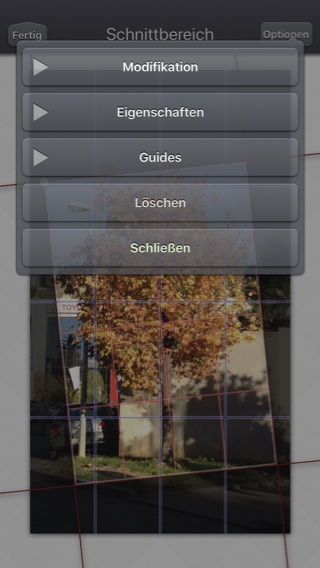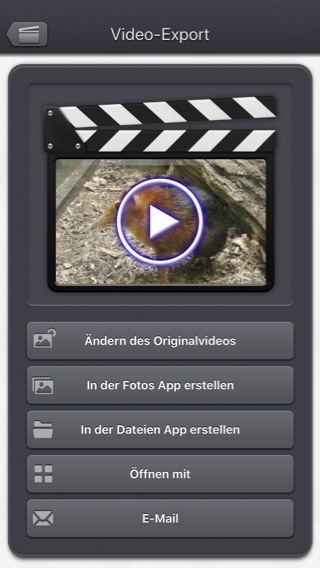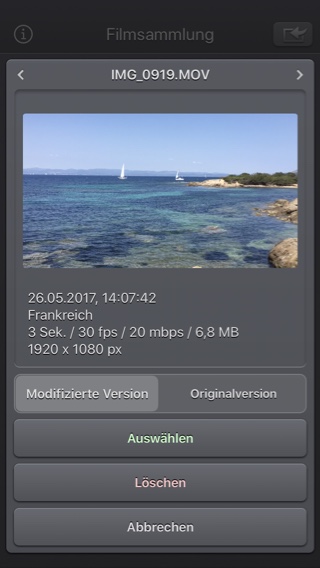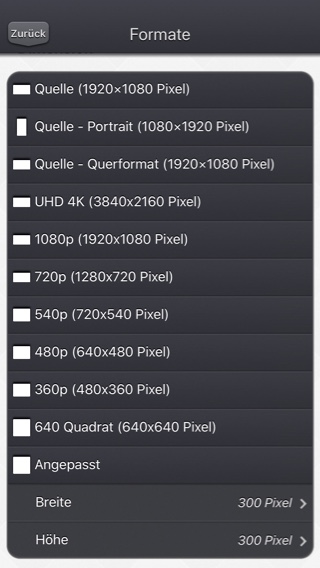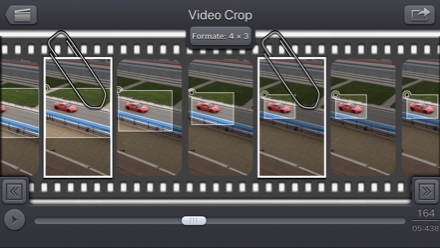 iPad Screenshots
---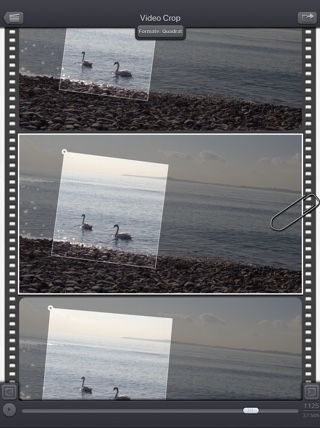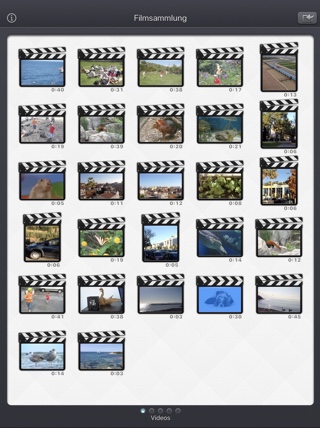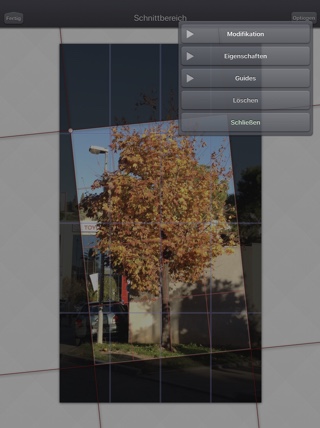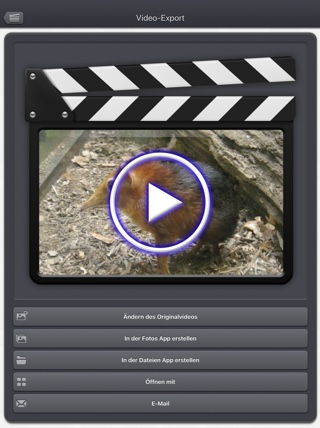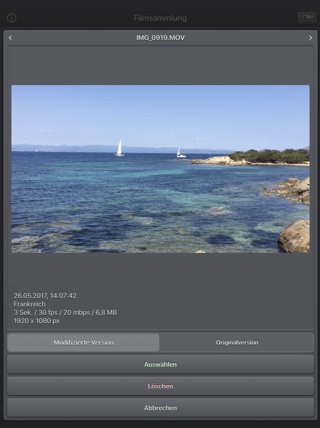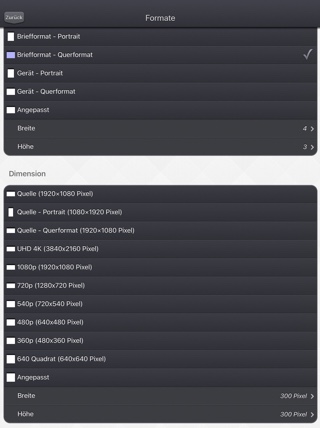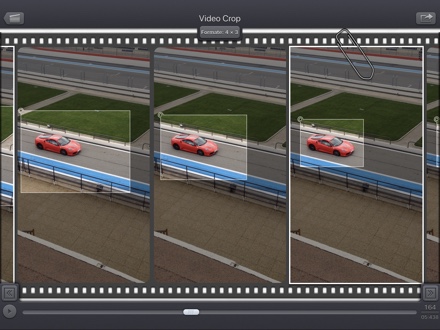 häufig gestellte Fragen
---
Geschichte
---
Here is the latest version of Video Crop & Zoom!
I hope that you will enjoy the following content:
Improvements for iOS11 and iPhone X.
GPS and date of creation are kept when the media is added to the Camera Roll.
Videos are now sorted by modification date in the "Recently Added" folder and by creation date in the other folders (Photos/Favorites/LivePhotos).
Various fixes and improvements.
Fix : Fixes some problems with portrait oriented source videos.
Fix : Handles correctly videos with custom storage aspect ratios.
Change : small fixes and improvements.
This new 2.0 version brings compatibility to a lot of great iOS features :
New : Photo Cloud compatibility. All your videos, even the ones in the cloud can be used in the app.
New : 3D Touch support. A new Quick Action is available in the main screen : open the most recent video in your Camera Roll.
New : Live Photos support. It is possible to open the video part included in a Live Photo, like you are used to do it with your videos.
New : Extensions - A live Photo can also be imported directly from other applications like the Photo app.
New : iPad Pro compatibility. Enjoy the app on the big screen of your iPad Pro.
New : Multitasking support. Thanks to Split View, use another application at the same time. The layout of the app is adjusted accordingly.
New : App Thinning & Bitcode support. The disk space taken by the app has been highly reduced.
New : Possibility to precisely define the cropped area size in pixels size (of the input video).
Fix : Various fixes and improvements.
New : Action Extension. Crop your videos and export them, directly inside another application (like the Photo app).
New : Rotate the crop area to straighten the video. Fix the horizon or add some cool effects to your videos.
New : Explicitly set the dimensions in pixels of the exported video (and not just a proportion). As before, if only the proportion is set (and not the dimensions), Video Crop & Zoom will automatically determine the best dimension to optimize the quality.
New : long pressing the arrow buttons at the bottom will jump to the next or the previous frame. During video playback, pressing the buttons will jump to the next or previous 2 seconds.
Fix : Improved stability of the application.
Fix : Sharper images on iPhone6+.
Fix : Preserve input video audio quality (channels/sample rate).
Change : iOS8 adaptation.
New : iPhone 6 and iPhone 6 plus support.
This new release is mainly related to iOS7 adaptations and fixes :
Change : Flat icon, status bar integration, new image background that reacts to user motion.
Change : Improved Open-in export destination that gives more choices to the user (some of them may however be redundant with the other export destination).
Fix : Avoid a crash of the application, under low memory conditions, when the movie reel is scrolled.
Verfügbarkeit
---
Video Crop & Zoom kann auf App Store erworben werden
Hilfe

---
For more information or support, please contact (in english or french)
To get some fresh news regarding our work : here is our twitter PacoLabs