Video Rotate & Flip
Präsentation
---
Mit Video Rotate & Flip können Sie jetzt Ihre Videos ganz leicht und unterhaltsam drehen und kippen, direkt auf Ihrem Gerät.
Drehen Sie Ihre Videos, um die Hochformats-/ Querformatsausrichtung zu ändern, oder kippen Sie sie, um das Bild auf den Kopf zu stellen.

Hier sind einige der verschiedenen Nutzungszwecke für Video Rotate & Flip:
Sie haben ein Video in falscher Ausrichtung aufgenommen, weil Sie vergessen haben, die Drehungssperre Ihres Geräts auszuschalten. Benutzen Sie Video Rotate & Flip, um die Ausrichtung zu ändern.
Sie haben ein Video vom Boden oder Himmel gemacht. Die vom Gerät gewählte Ausrichtung ist nicht optimal und Sie möchten sie ändern.
Sie möchten einen Spiegeleffekt hinzufügen, indem Sie das Video horizontal kippen, damit Schrift im Video nicht gelesen werden kann.
Sie möchten dem Video einfach einen witzigen Effekt hinzufügen, es auf den Kopf stellen oder drehen.
einige Video-Player auf Ihrem Computer drehen das Video nicht richtig. Benutzen Sie Video Rotate & Flip, um das Video ordentlich auszurichten.
Wenn das Video ist noch nicht lesbar auf Ihrem Computer, können Videospieler nicht vollständig unterstützt die .mov Datei-Endung. Verwenden Sie
Quicktime
statt.
Es erwartet Dich die für unsere Video-Apps übliche und intuitive Benutzeroberfläche.
Diese Apps wurden bereits oft von Apple und diversen, anderen Internetseiten vorgestellt.
Diese App, die für iPhone und iPad entwickelt wurde, erfordert iOS5 (oder höher) und eine vorderseitige Kamera an deinem Gerät.
Videos können von den Aufnahmen deiner Kamera, von iTunes File Sharing oder direkt über deine Kamera importiert werden.
Hoch- und Querformatausrichtungen werden unterstützt.
Video
---
| | | |
| --- | --- | --- |
| | | |
| (v1.5 on iPhone 6) | | (v1.5 on iPad) |
iPhone Screenshots
---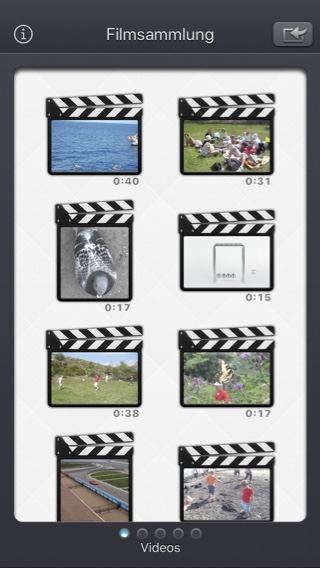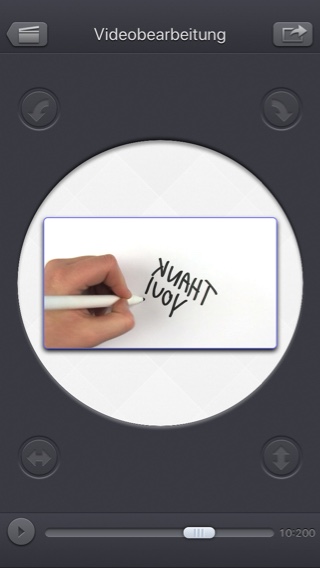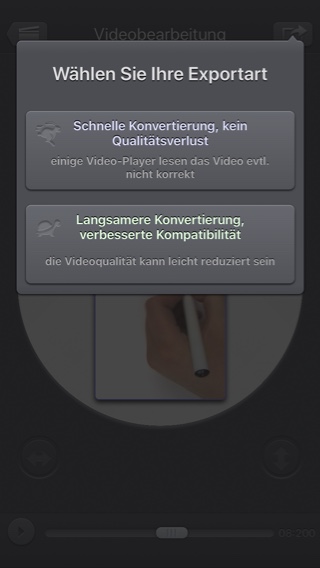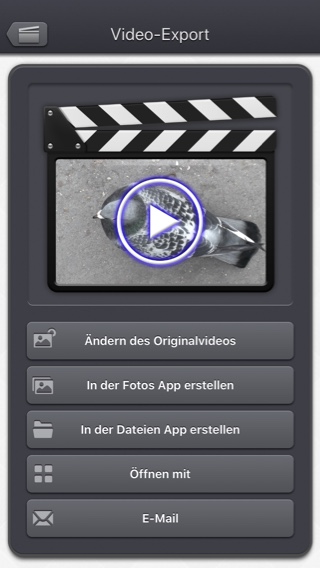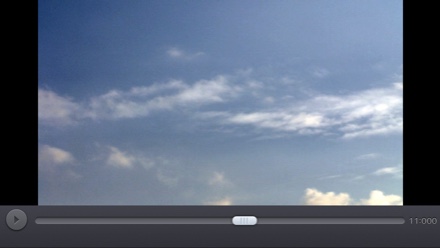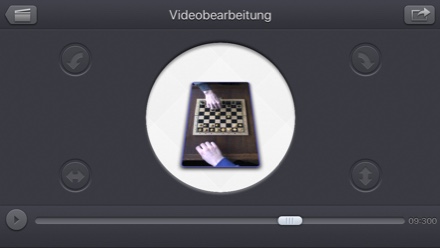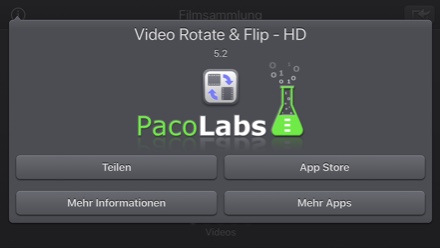 iPad Screenshots
---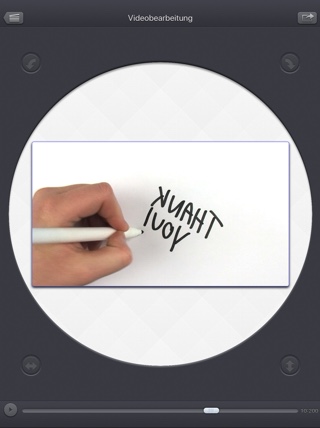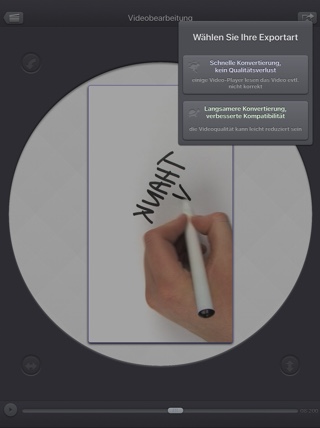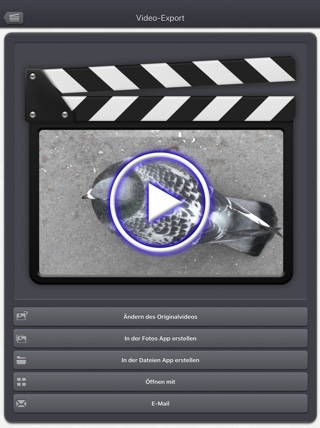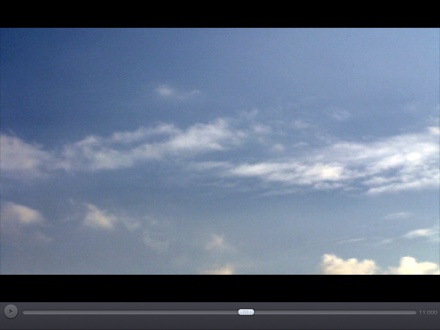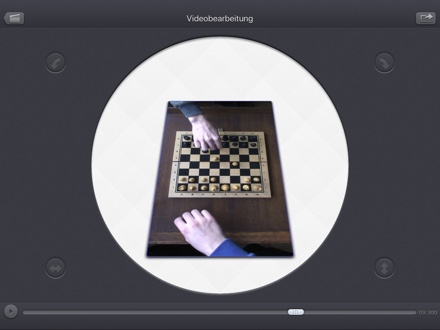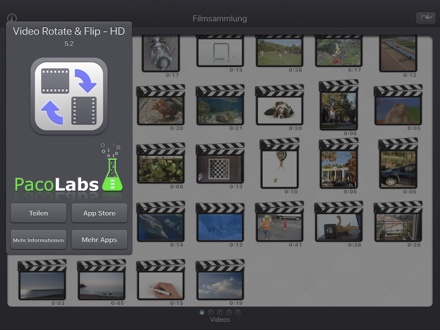 häufig gestellte Fragen
---
Geschichte
---
Here is the latest version of Video Rotate & Flip!
I hope that you will enjoy the following content:
Improvements for iOS11 and iPhone X.
GPS and date of creation are kept when the media is added to the Camera Roll.
Videos are now sorted by modification date in the "Recently Added" folder and by creation date in the other folders (Photos/Favorites/LivePhotos).
Various fixes and improvements.
Change : small fixes and improvements.
This new 2.0 version brings compatibility to a lot of great iOS features :
New : Photo Cloud compatibility. All your videos, even the ones in the cloud can be used in the app.
New : 3D Touch support. A new Quick Action is available in the main screen : open the most recent video in your Camera Roll.
New : Live Photos support. It is possible to open the video part included in a Live Photo, like you are used to do it with your videos.
New : Extensions - A live Photo can also be imported directly from other applications like the Photo app.
New : iPad Pro compatibility. Enjoy the app on the big screen of your iPad Pro.
New : Multitasking support. Thanks to Split View, use another application at the same time. The layout of the app is adjusted accordingly.
New : App Thinning & Bitcode support. The disk space taken by the app has been highly reduced.
Fix : Various fixes and improvements.
New : Action Extension. It is now possible to rotate your videos and export them, directly inside another application (like the Photo app).
New : Photo Extension. It is now possible to rotate the selected video, directly inside the Photo app.
Fix : Preserve input video audio quality (channels/sample rate)
Fix : Small fixes and improved stability of the application.
Change : iOS8 adaptation.
New : iPhone 6 and iPhone 6 plus support.
This new release is mainly related to iOS7 adaptations and fixes :
Change : Flat icon, status bar integration, new image background that reacts to user motion.
Change : Improved Open-in export destination that gives more choices to the user (some of them may however be redundant with the other export destination).
Change : Simpler video encoding of the exported videos using the Improved Compatibility mode. Those video files should be readable on more video players.
Change : When exported using the Open-in feature, the video filename is correctly set (to the same one than the one used for Email or iTunes file Sharing).
New : Icons added to the to export buttons, for a quicker identification.
New : videorotateandflip:// scheme support to launch externally Video Rotate & Flip.
New : Disable automatic device screen lock (causing a potential application close) during long conversions.
New : iPhone5 screen support.
New : iOS6 adaptations.
New : On iOS6, "Open In" export feature allowing to send a video directly to another application (handling video import).
New : Video import Handling to allow other applications to directly send videos to the application.
Change : Allows music player to continue playing after the application launch.
Fix : Various bug fixes and improvements.
Verfügbarkeit
---
Video Rotate & Flip kann auf App Store erworben werden
Datenschutzerklärung
---
Wir erfassen keine personenbezogenen Daten aus Ihrer Nutzung unserer Apps.
Hilfe

---
For more information or support, please contact (in english or french)
To get some fresh news regarding our work : here is our twitter PacoLabs