Video Rotate & Flip
提示
---
Video Rotate & Flipで、あなたのデバイスから直接、簡単で楽しく動画の回転や反転ができます。
動画を回転して、縦向き/横向きを切り替えたり、反転して画像の上下を逆にしたりしましょう。

Video Rotate & Flipはこんな場合に使えます:
デバイスの回転ロックを解除し忘れて、良くない向きで動画を撮影してしまった。 Video Rotate & Flip を使って向きを変えましょう。
地面あるいは空の動画を撮った。デバイスが選択した向きが最適ではなく、変えたいと思っている。
ミラー効果を入れて動画を左右反転させ、物事を読めなくしたい。
動画を上下逆にしたり、回転したり、ただおもしろい効果を入れたい。
コンピューターの動画プレーヤーに、動画を正しく回転させないものがある。Video Rotate & Flipを使って動画の向きを修正しましょう。
ビデオがまだコンピュータ上読み取れない場合は、お使いのビデオプレイヤーは完全に。movファイル拡張子をサポートしないかもしれません。代わりに
Quicktime
を使用してください。
当社のすべての動画アプリケーションに共通なオリジナルで直感的なユーザーインターフェイスを搭載。
これらのアプリケーションは、Appleやさまざまなウェブサイトで何回も取り上げられています。
このアプリはiPhoneやiPadで起動します。iOS 5 (或はそれ以上)とデバイスのフロントカメラが必要です。
動画はカメラロール、iTunesファイル共有からインポートできる他、カメラから直接のインポートも可能です。
ポートレートや風景対応。
ビデオ
---
| | | |
| --- | --- | --- |
| | | |
| (v1.5 on iPhone 6) | | (v1.5 on iPad) |
iPhoneスクリーンショット
---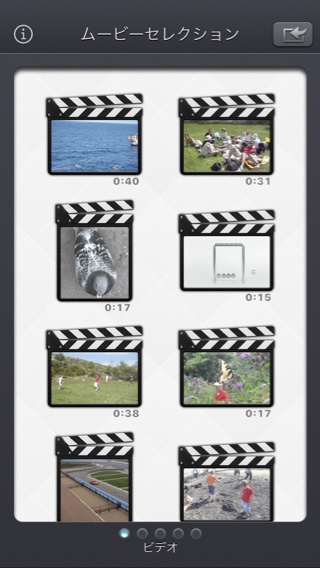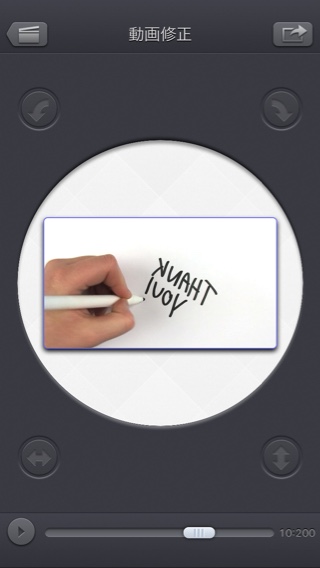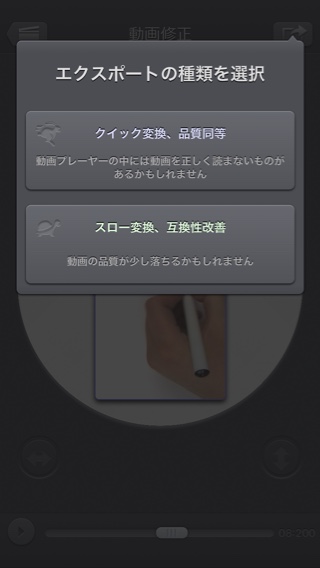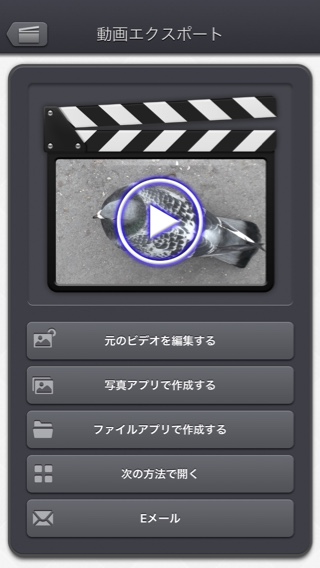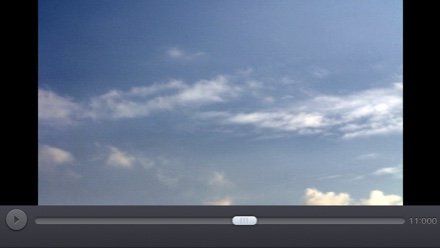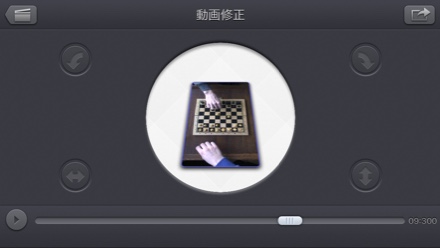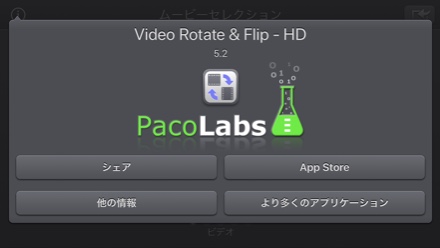 iPadのスクリーンショット
---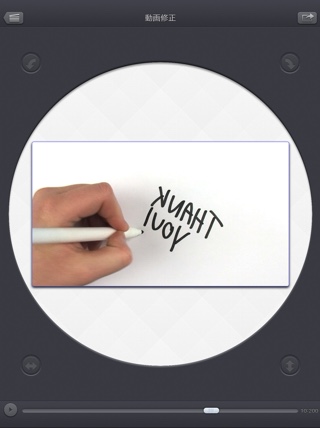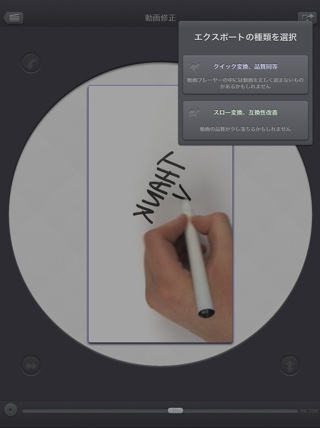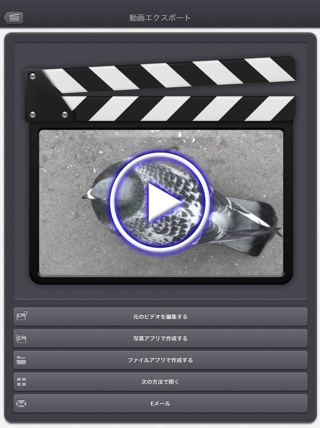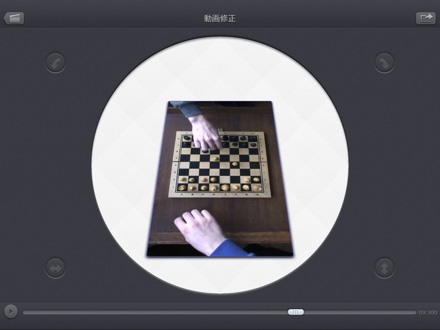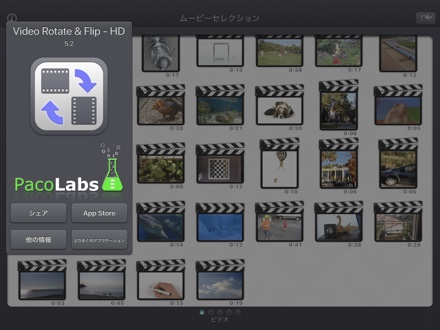 よくある質問
---
歴史
---
Here is the latest version of Video Rotate & Flip!
I hope that you will enjoy the following content:
Improvements for iOS11 and iPhone X.
GPS and date of creation are kept when the media is added to the Camera Roll.
Videos are now sorted by modification date in the "Recently Added" folder and by creation date in the other folders (Photos/Favorites/LivePhotos).
Various fixes and improvements.
Change : small fixes and improvements.
This new 2.0 version brings compatibility to a lot of great iOS features :
New : Photo Cloud compatibility. All your videos, even the ones in the cloud can be used in the app.
New : 3D Touch support. A new Quick Action is available in the main screen : open the most recent video in your Camera Roll.
New : Live Photos support. It is possible to open the video part included in a Live Photo, like you are used to do it with your videos.
New : Extensions - A live Photo can also be imported directly from other applications like the Photo app.
New : iPad Pro compatibility. Enjoy the app on the big screen of your iPad Pro.
New : Multitasking support. Thanks to Split View, use another application at the same time. The layout of the app is adjusted accordingly.
New : App Thinning & Bitcode support. The disk space taken by the app has been highly reduced.
Fix : Various fixes and improvements.
New : Action Extension. It is now possible to rotate your videos and export them, directly inside another application (like the Photo app).
New : Photo Extension. It is now possible to rotate the selected video, directly inside the Photo app.
Fix : Preserve input video audio quality (channels/sample rate)
Fix : Small fixes and improved stability of the application.
Change : iOS8 adaptation.
New : iPhone 6 and iPhone 6 plus support.
This new release is mainly related to iOS7 adaptations and fixes :
Change : Flat icon, status bar integration, new image background that reacts to user motion.
Change : Improved Open-in export destination that gives more choices to the user (some of them may however be redundant with the other export destination).
Change : Simpler video encoding of the exported videos using the Improved Compatibility mode. Those video files should be readable on more video players.
Change : When exported using the Open-in feature, the video filename is correctly set (to the same one than the one used for Email or iTunes file Sharing).
New : Icons added to the to export buttons, for a quicker identification.
New : videorotateandflip:// scheme support to launch externally Video Rotate & Flip.
New : Disable automatic device screen lock (causing a potential application close) during long conversions.
New : iPhone5 screen support.
New : iOS6 adaptations.
New : On iOS6, "Open In" export feature allowing to send a video directly to another application (handling video import).
New : Video import Handling to allow other applications to directly send videos to the application.
Change : Allows music player to continue playing after the application launch.
Fix : Various bug fixes and improvements.
供給
---
個人情報保護方針
---
私たちはあなたのアプリケーションの使用から個人情報を収集することはありません。
助け

---
For more information or support, please contact (in english or french)
To get some fresh news regarding our work : here is our twitter PacoLabs