Video Crop & Zoom
Presentación
---
Video Crop & Zoom te permite recortar videos de manera fácil y precisa.
¿Por qué recortarías un video?

Quieres quitar una persona o un objeto del video. Recórtalo para hacer esa parte invisible.
Grabaste un video con una orientación de retrato y quieres cambiarlo a una orientación de paisaje.
Quieres añadir pequeños efectos a tu video, como ampliar el rostro de alguien reduciéndolo después a una vista general más amplia.
Quieres guardar solo la mejor parte de tu video, recortando lo principal y quitando lo que sobra.
Quieres recortar tu video a un tamaño específico (cuadrado, 4 x 3, 16 x 9 , ...) antes de enviarlo a la TV o a tu servicio social preferido.
Los videos se pueden importar desde Imágenes de tu iDevice.
Reconoce eventos y álbumes.
Puedes conectar tu iDevice a iTunes para arrastrar y soltar otros videos. (Función compartir archivos de iTunes).
Una interfaz de usuario original y animada te permite recortar cada cuadro del video independientemente, si es necesario.
Se hará una interpolación automáticamente entre cada modificación para ajustar el tamaño del área recortada y moverla progresivamente.
El área de recorte se puede definir usando algunos gestos sencillos, pero en caso de que se necesite una alta precisión, puede cambiar directamente los valores (en píxeles para el tamaño y la posición, en grados para el ángulo).
Se pueden mostrar algunas guías visuales opcionales, como cuadrículas configurables e información contextual, para ayudarle a realizar el seguimiento de su objetivo.
Encontrarás la interfaz de usuario original e intuitiva, común a todas nuestras aplicaciones de vídeo.
Estas aplicaciones han sido presentadas muchas veces por Apple y varios sitios web.
Esta aplicación, que puede ser ejecutada en iPhone y iPad, necesita iOS 5 (o superior) y una cámara frontal en tu dispositivo.
Admite las orientaciones retrato y panorámica.
Vídeo
---
| | | |
| --- | --- | --- |
| | | |
| (v1.3 on iPhone 6) | | (v1.3 on iPad) |

(v1.0 tutorial)
Capturas de pantalla del iPhone
---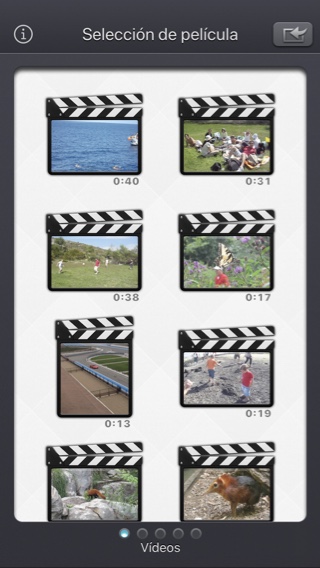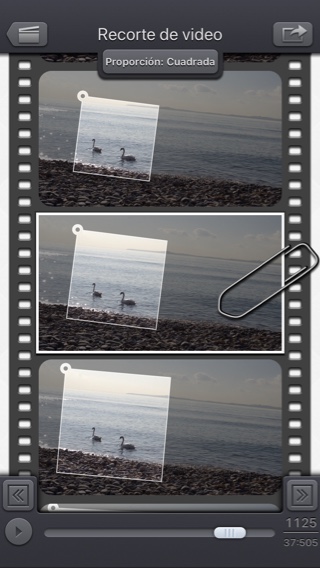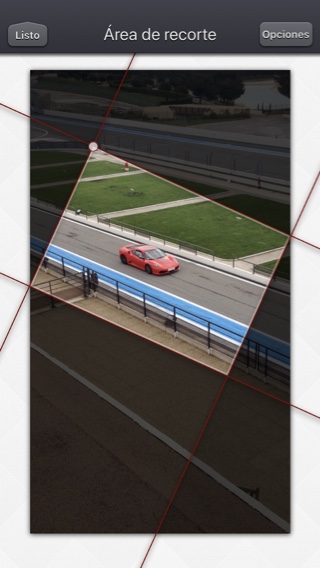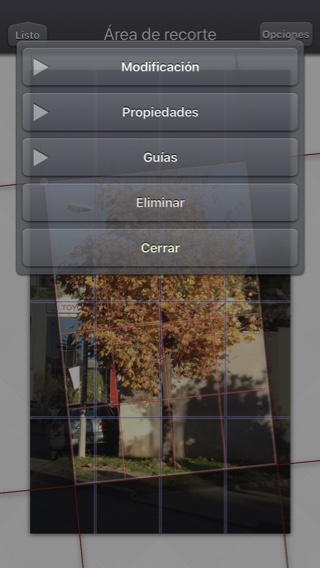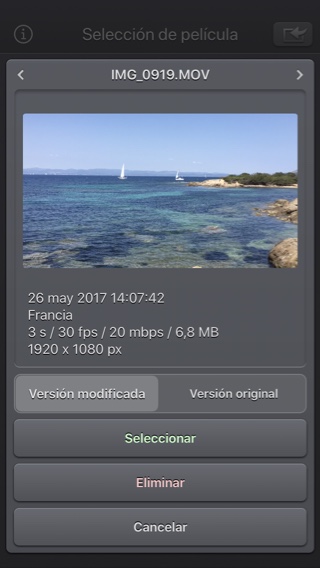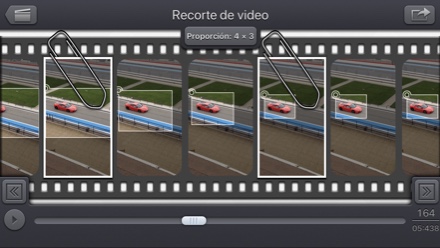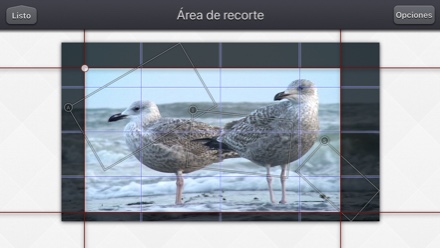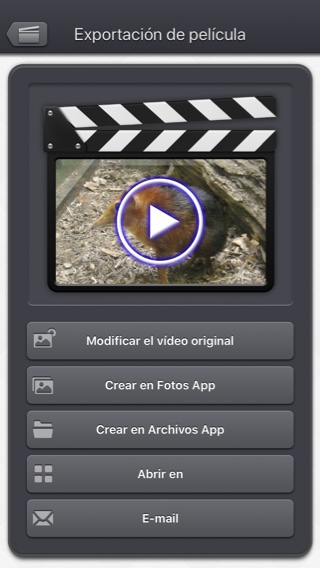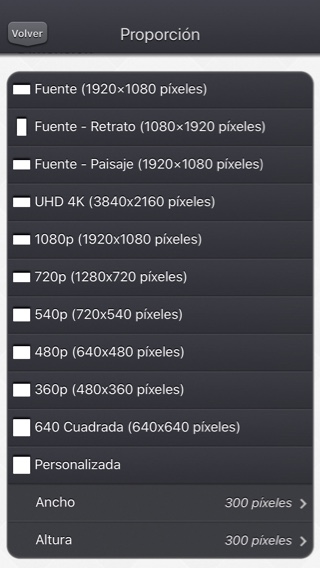 Capturas de pantalla del iPad
---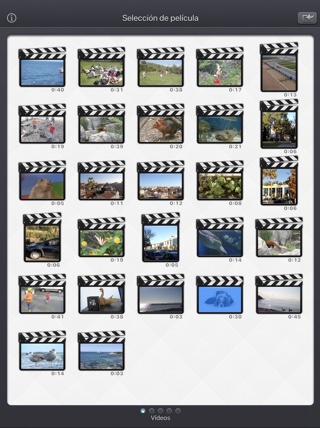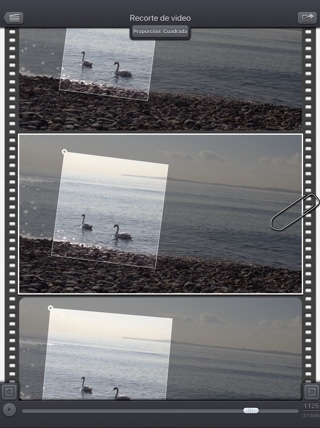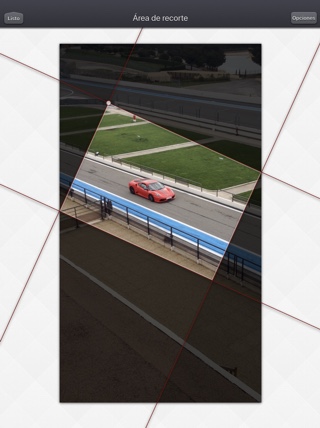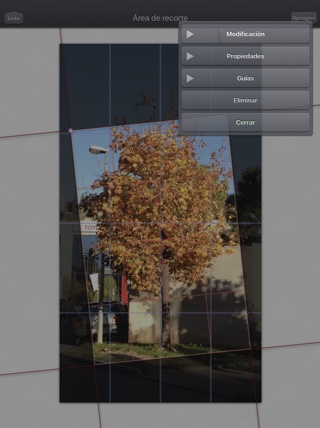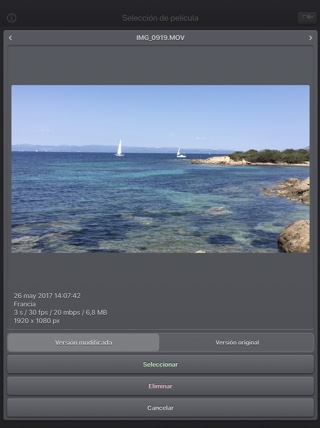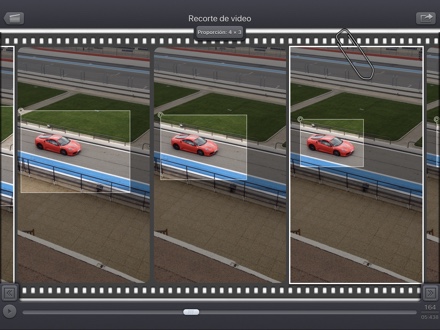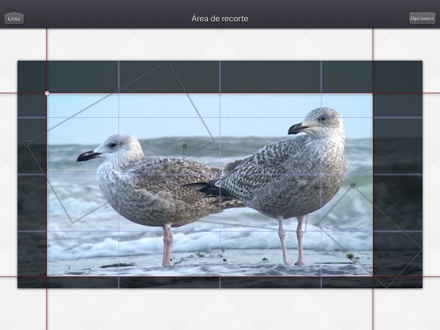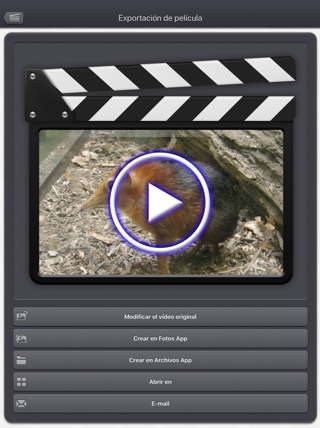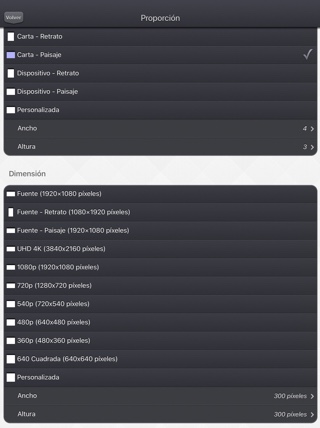 las preguntas más frecuentes
---
Historial
---
Fix to avoid a crash when the Files button of the video import popup is selected (on iPads with iOS versions lower than iOS11).
The duration of the video is now displayed below the thumbnail in the video selection screen.
Smaller memory usage on older devices (with less than 1Gb ram) running iOS12 or higher, to avoid some potential crashes.
Various fixes and improvements.
Here are the new features of this version 4.0 :
Modification : Possibility to precisely set the values for the angle, size and position of the cropped area.
Properties : The interpolation of the frames between two cropped areas is now more fluid and less robotic (this can be reverted to a linear interpolation for each individual defined cropped area, if needed)
Guides : User defined grids can be displayed for the input video, and the cropped area. The previous, next and interpolated cropped areas can also be displayed.
Media can be imported into the application using the standard photo picker (its content is similar to Apple's Photo application).
Media can be imported into the application using the standard file picker (its content is similar to that of Apple's Files application).
When the media is saved to the camera roll, it is automatically associated to an album named "Video Crop & Zoom".
The previously selected video is now highlighted in blue in the video selection screen.
iTunes File Sharing has been renamed File, since it is now possible to access media using Apple's File application as well.
The iTunes File Sharing folder is now visible/modifiable in the Apple Files application.
The exported video will be HEVC if the input video is HEVC.
The filename of the exported video file is now prefixed by the original filename of the source video, followed by the current date and time.
The request for review popup is displayed less often.
Added the possibility to disable the tutorial (by touching it).
Here is the latest version of Video Crop & Zoom!
I hope that you will enjoy the following content:
Improvements for iOS11 and iPhone X.
GPS and date of creation are kept when the media is added to the Camera Roll.
Videos are now sorted by modification date in the "Recently Added" folder and by creation date in the other folders (Photos/Favorites/LivePhotos).
Various fixes and improvements.
Fix : Fixes some problems with portrait oriented source videos.
Fix : Handles correctly videos with custom storage aspect ratios.
Change : small fixes and improvements.
This new 2.0 version brings compatibility to a lot of great iOS features :
New : Photo Cloud compatibility. All your videos, even the ones in the cloud can be used in the app.
New : 3D Touch support. A new Quick Action is available in the main screen : open the most recent video in your Camera Roll.
New : Live Photos support. It is possible to open the video part included in a Live Photo, like you are used to do it with your videos.
New : Extensions - A live Photo can also be imported directly from other applications like the Photo app.
New : iPad Pro compatibility. Enjoy the app on the big screen of your iPad Pro.
New : Multitasking support. Thanks to Split View, use another application at the same time. The layout of the app is adjusted accordingly.
New : App Thinning & Bitcode support. The disk space taken by the app has been highly reduced.
New : Possibility to precisely define the cropped area size in pixels size (of the input video).
Fix : Various fixes and improvements.
New : Action Extension. Crop your videos and export them, directly inside another application (like the Photo app).
New : Rotate the crop area to straighten the video. Fix the horizon or add some cool effects to your videos.
New : Explicitly set the dimensions in pixels of the exported video (and not just a proportion). As before, if only the proportion is set (and not the dimensions), Video Crop & Zoom will automatically determine the best dimension to optimize the quality.
New : long pressing the arrow buttons at the bottom will jump to the next or the previous frame. During video playback, pressing the buttons will jump to the next or previous 2 seconds.
Fix : Improved stability of the application.
Fix : Sharper images on iPhone6+.
Fix : Preserve input video audio quality (channels/sample rate).
Change : iOS8 adaptation.
New : iPhone 6 and iPhone 6 plus support.
This new release is mainly related to iOS7 adaptations and fixes :
Change : Flat icon, status bar integration, new image background that reacts to user motion.
Change : Improved Open-in export destination that gives more choices to the user (some of them may however be redundant with the other export destination).
Fix : Avoid a crash of the application, under low memory conditions, when the movie reel is scrolled.
Disponibilidad
---
Video Crop & Zoom se pueden comprar en App Store
Política de privacidad
---
No recogemos ninguna información personal de su uso de nuestras aplicaciones.
Ayuda

---
For more information or support, please contact (in english or french)
To get some fresh news regarding our work : here is our twitter PacoLabs