Video Reverser
Presentation
---
Use Video Reverser to reverse your HD videos (with their associated audio track), in order to play them backwards.
The original resolution and frame rate of the video is preserved.

Add this awesome and fun effect to your video and create something unique that will astonish your friends.
Export the converted video to your Camera Roll, to iTunes File Sharing or to your favourite social network.

You will find the original and intuitive user interface, common to all our videos applications.
These applications have been featured many times by Apple and various websites.

This application can run, on your iPhone and your iPad, as a standalone application, a Photo Extension, or as an Action Extension (from the compatible applications like the Photo app).
Videos can be imported from your device, iTunes File Sharing or directly from the camera.
Portrait and Landscape orientations are supported in all screens.

Video
---
| | | |
| --- | --- | --- |
| | | |
| (v1.0 on iPhone 6) | | (v1.0 on iPad) |
iPhone Screenshots
---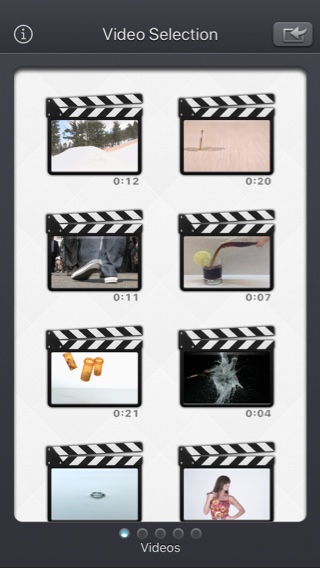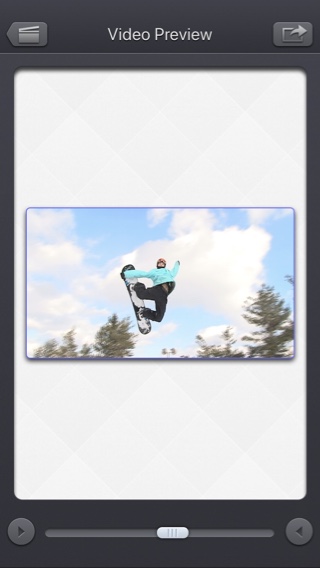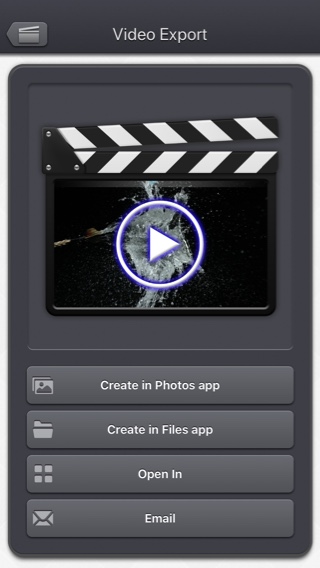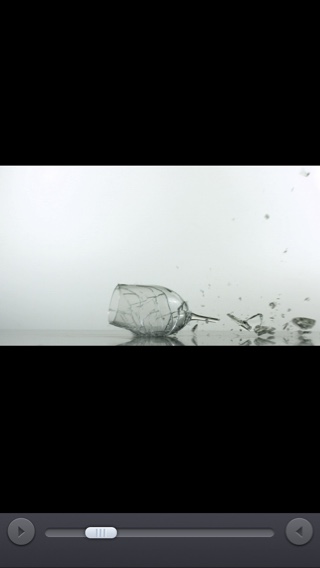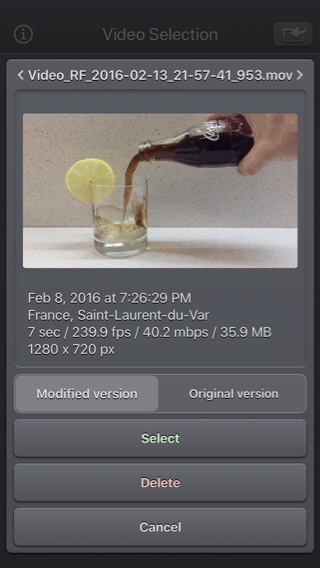 iPad Screenshots
---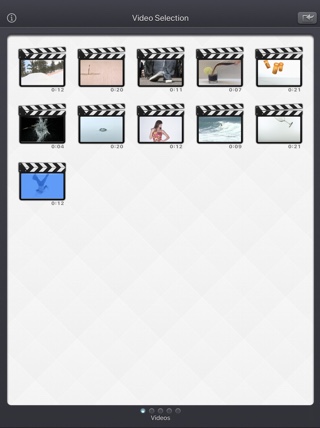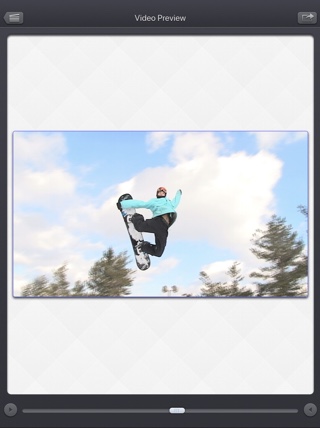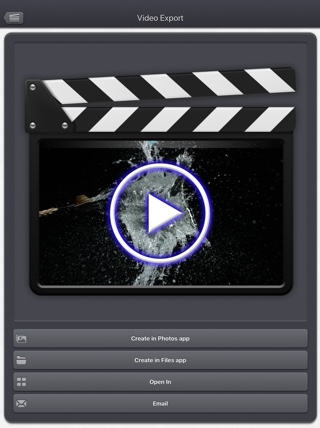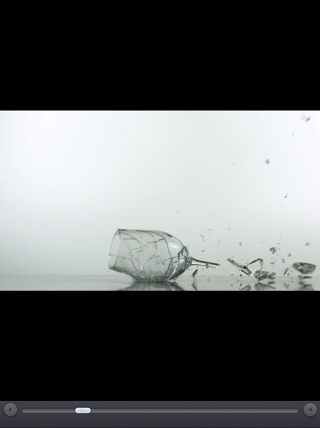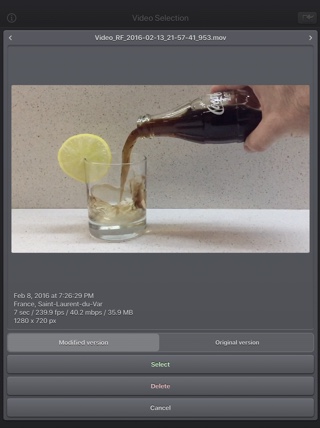 FAQ
---
Q : The app is taking a lot of disk space. Is there a cache cleaning function?

The app does not really cache any data.

There are only

2

cases where some video data will be stored in the application (making it use some space on the device) :

Instead of opening an existing video that is stored in the Photo app of the device (Photo or Camera roll folder), the user imports a new video :

by using the internal recording screen of the app.
by opening a video from another application into the app (using the Open-in iOS feature).

To avoid loosing this input video, it is saved temporarily in the document folder of the app.
This temporary video will be automatically erased as soon as another video will be opened in the app.

So if you have recorded a very big video, and you need some disk space as soon as possible, just open another existing video, when you have done with the recorded video.



The iTunes File Sharing folder has been used by the user :

to import a video from his computer.
to export a video to his computer.

Once the video is not needed anymore, it is up to the user to delete it manually (using another time his computer).

In case the iTunes File Sharing folder was used unintentionally, and the user wants to remove the files contained in it, without using his computer, he can, as a workaround, un-install and re-install the app.
This will have the effect to reset the app content (including the iTunes File sharing folder).


For information, the temporary video mentioned in the

1st

part is stored in the same document folder which is accessible through

iTunes File Sharing

.

Note:

This folder will be backed up by

iCloud

, if this option is activated in the

iCloud

general settings.

Q : How can I delete videos that have been loaded?

In case the video to be deleted is located in your Camera Roll, go to the Photo application and you'll be able so see all your videos (and photos).
Once the video is selected, use the dedicated button to delete it.

In case the video to be deleted is located in the iTunes File Sharing folder, here is how to access and delete it : http://support.apple.com/kb/HT4094

Q : What video formats can be read?

The video decoder used in the app is the one provided by Apple.

It is able to support all the video formats that are handled by the device itself.

It might depend on the model and iOS version you are using.

For instance, on iPhone5S (with iOS7) here are the supported formats :

H.264 video up to 1080p, 60 frames per second, High Profile level 4.2 with AAC-LC audio up to 160 Kbps, 48kHz, stereo audio in .m4v, .mp4, and .mov file formats
MPEG-4 video up to 2.5 Mbps, 640 by 480 pixels, 30 frames per second, Simple Profile with AAC-LC audio up to 160 Kbps per channel, 48kHz, stereo audio in .m4v, .mp4, and .mov file formats
Motion JPEG (M-JPEG) up to 35 Mbps, 1280 by 720 pixels, 30 frames per second, audio in ulaw, PCM stereo audio in .avi file format

(source :

http://www.apple.com/iphone-5s/specs/

)
History
---
Small fixes and improvements.
Potential fix for a regression (introduced in iOS13.2 beta), preventing the export of some GPS information.
The modified version of the video (if any) is now the version opened by default, when selecting a video thumbnail in the app.
If you want to open the original video instead, you can long press on the video thumbnail to access the dedicated option.
Selecting a Video from the Photo picker will give you the option to choose the modified or original version, when relevant.
It is now possible, in the export video screen, to choose to modify the original video, or to create a new video (like before).
Some elements (or their touch area) are slightly bigger for an easier manipulation.
Small fixes and improvements.
Dark mode of iOS13 is supported.
Fix for Live Photos import on iOS versions lower than iOS 10.
Minor corrections and improvements.
Ability to navigate back by swiping the finger from the left side of the screen.
In the video selection screen: you can preview the video, get information and access options (such as delete) by pressing and holding down a video thumbnail.
When selecting a video, a cloud icon is now displayed under the thumbnail, if the video must be downloaded before opening it.
When the video is opened from the Files application (or file selector), it is no longer temporarily duplicated internally.
Improved support for exotic videos (bitrate / framerate / clean aperture / pixel aspect ratio related improvements).
Improved support for slo-mo videos on older devices such as the 1st generation ipad Pro or iphone 6.
Fix to avoid a delay before the video selection screen is displayed when there are a lot of videos to display.
Smaller fixes and improvements.
Les médias peuvent être importés dans l'application en utilisant le sélecteur de photos standard (son contenu est similaire à celui de l'application Photo d'Apple).
Les médias peuvent être importés dans l'application en utilisant le sélecteur de fichiers standard (son contenu est similaire à celui de l'application Fichiers d'Apple).
Lorsque le média est enregistré dans la pellicule photo, il est automatiquement associé à un album nommé "Video Reverser".
La vidéo précédemment sélectionnée est maintenant en surbrillance bleue dans l'écran de sélection vidéo.
Le Partage de Fichiers iTunes a été renommé Fichier, puisqu'il est maintenant possible d'accéder aux médias en utilisant également l'application Fichiers d'Apple.
Le dossier du Partage de Fichiers iTunes est maintenant visible/modifiable dans l'application Fichiers d'Apple.
La vidéo exportée sera HEVC si la vidéo d'entrée est HEVC.
Le nom de fichier du fichier vidéo exporté est maintenant préfixé par le nom de fichier original de la vidéo source, suivi de la date et de l'heure actuelles.
Correction pour certaines vidéos non corrigées.
La popup de demande de commentaire est affichée moins souvent.
Un petit tutoriel est affiché pendant l'utilisation de l'application pour en apprendre les bases.
La durée de la vidéo est maintenant affichée sous la vignette dans l'écran de sélection vidéo.
Corrections et améliorations mineures.
Here is the latest version of Video Reverser!
I hope that you will enjoy the following content:
Improvements for iOS11 and iPhone X.
GPS and date of creation are kept when the media is added to the Camera Roll.
Videos are now sorted by modification date in the "Recently Added" folder and by creation date in the other folders (Photos/Favorites/LivePhotos).
Various fixes and improvements.
Availability
---
Video Reverser can be purchased on the App Store
Privacy policy
---
We do not collect any personal information in this app.
For some of our applications, we may use anonymised analytics information to better understand how the users are interacting with the app in order to improve it.
Help

---
For more information or support, please contact .
To get some fresh news regarding our work : here is our twitter PacoLabs.